How to Reset Your Mind and Body with Functional Medicine, Optimizing Women's and Men's Hormones with Age and Releasing Unhealthy Patterns with Dr. Brooke Stuart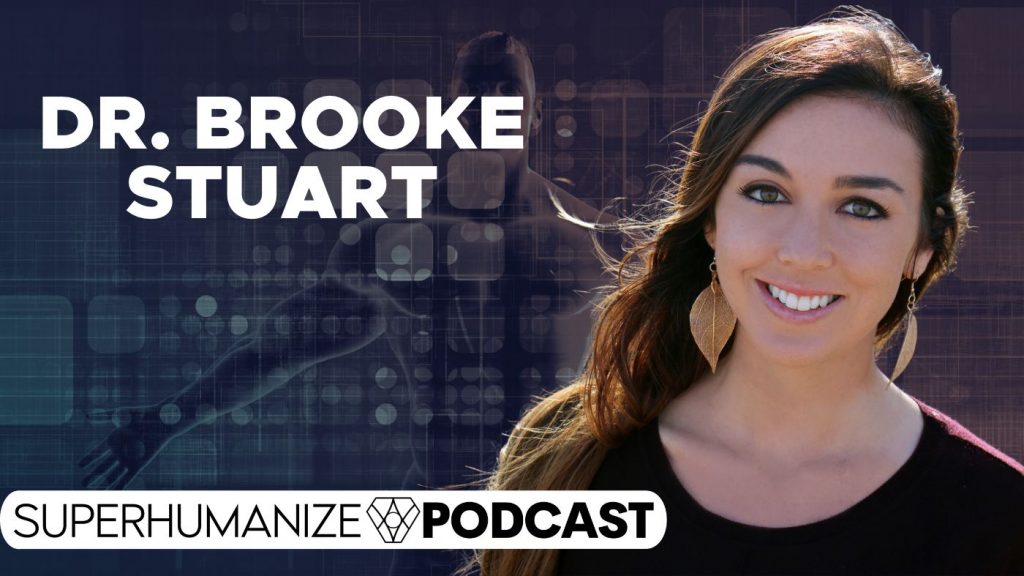 I know from quite a few of you giving me input and feedback on social media, or via emails, that you feel conventional medicine is reactive and disease oriented and that little focus is put on trying to find and heal the underlying cause of an issue.
I personally feel that much of that disappointment is justified and at the same time I feel deep gratitude for having the option to seek and get medical treatment in case of say, an accident or a horrible infection. I have deep respect for the medical professionals who work hard every day, often at a high price to their own physical and mental health, to help others.
I do believe it is our system that needs an overhaul and I also believe that an ideal medical system integrates the approach of holistic medicine and what we call conventional medicine. Preventing disease and supporting optimal health in the first place and addressing health issues as needed with targeted medical interventions.
Our guest today, Dr. Brooke Stuart is a holistic doctor in private practice, where she specializes in taking a holistic approach to mental health, physical health and high performance through a combination of holistic counseling and functional medicine. She is also the founder and president of Let Go & Grow International.
According to the Institute for Functional Medicine, "Functional Medicine is a personalized, systems-oriented model that empowers patients and practitioners to achieve the highest expression of health by working in collaboration to address the underlying causes of disease."
Functional medicine uses the best of ancient practices and modern modalities and doctors, amongst other, recommend supplements, cutting edge technological devices and tests, as well as mindset techniques, diet, and lifestyle changes. Based on this, Dr. Brooke develops a personalized treatment plan for each patient.
She also collaborates with conventional doctors regarding certain medications or tests when necessary. For Dr. Brooke, functional medicine is not in competition with other types of medicine. In this episode she will give us an overview of her practice and most successful approaches to healing the whole human.
In this episode with Dr. Brooke, you'll discover:
-What exactly is functional medicine?…04:15
-Why we're conditioned to repress our "authentic self" and how to begin resetting this energetic balance…11:15
-"Fake it til you make it" is a real phenomenon!…16:45
-The pillars of resetting the mind and body in Dr. Brooke's practice…19:30
-What is andropause and how men's hormones change as they age…26:44
-What happens physiologically, specifically for females, when Vitamin C is injected into the body…33:20
-Why you should let go of what's not working vs. trying yet another diet, protocol, etc. to cure your ills…37:00
-How our perception of our food changes its effects on our body and health…42:30
-How to invite empowering thought patterns regarding your food, environment, etc…47:30
-A personal practice that elevates Dr. Brooke's life…51:10
-And much more….
Resources mentioned:
The Biology of Belief by Dr. Bruce Lipton
Connect with the guest:
"The heart based practice is something that I'm in a unique position to appreciate where we're talking to these amazing people. Like when I see my patients in front of me, I'm like, there is no way I'm letting you do the work without doing it too. So I'm so curious about these new modalities and also the fundamentals.
I have such a reverence for, because they've quite literally saved my life on every single level. And so I know the importance of drinking a lot of water, going to sleep at a certain time, opening up perspective, having community and healing conversations, placing my hands over my heart.
I'm an affirmation nerd and I love affirmations. One of the affirmations that I'll utilize when I want to gather and center myself is something really simple and I always give this to my patients on their second visit too, but I'll genuinely use it often and it's something as simple as I choose to return to the present moment and be here now where I belong.
Embodied, connected and receptive to myself in the process of life. And I've put those words together very specifically. It's my choice. My choice is my creatorship. So I choose to return to the present moment. So when I want to check out, how can I actively check in and say this out loud and signal and direct my mind, my heart, my body, my life as the leader into the direction, into the present moment where I can then choose to notice the contraction and expand.
And so I choose to return to the present moment and be here now where I belong. Because obviously for so many of us, especially in this field, we come in thinking about things a little different.
We feel like we don't necessarily always fit in with our families or different things like that. That alone, that knitting and that woven connection, creates such a beautiful signal of safety, and I recently just added the word embodied.
I'm here to experience my whole system in this form right now, right here, and then connected.
If you're spiritual, this can be in other ways too, whether you believe in God or the universe or whatever words. I use God, and I feel like there's such a strength in that word where you're not alone, you are supported. And that there's that all of life is potentially for us, it has this beautiful meeting, but also God lies within us."