Preventing and Reversing Alzheimer's: Dr. Dale Bredesen Explains Why It Should Be a Rare Disease, Dirty Cosmetics, The Importance of Fasting, and Much More!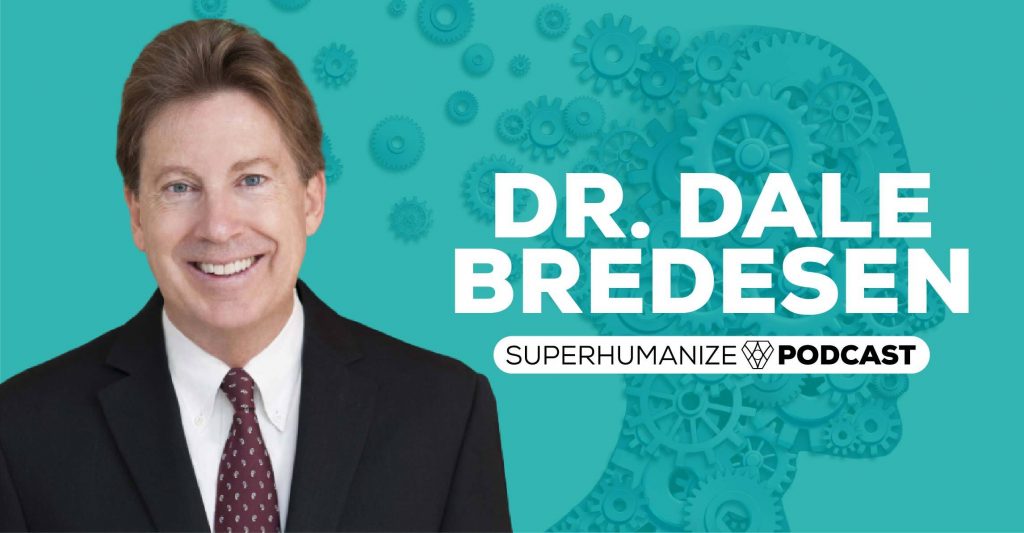 Alzheimer's disease and other neurodegenerative conditions are becoming one of the leading global health threats. As the human population ages, the prognosis is that Alzheimers will become a worldwide pandemic if effective prevention and reversal are not implemented. And here's the kicker, conventional medical opinion says that Alzheimer's can't be prevented, is untreatable and progressive. And most patients do not survive beyond three to eleven years after diagnosis.
My guest today says that Alzheimer's is not just preventable, but reversible. Dr. Dale Bredesen is an internationally recognized expert in the mechanisms of neurodegenerative diseases. He has researched neurodegeneration for three decades and has published 230 peer reviewed papers and four books over his career.
In those 30 years, he has developed a different opinion comparing Alzheimer's disease as a modern day equivalent to polio. He says that while it is ubiquitous now, it should be a rare disease and become a disease of the past. Dr. Bredesen also says that the buildup of amyloid plaque is not the cause for Alzheimer's, but a symptom of the true underlying issues.
And those issues are based on a variety of complex factors making Alzheimer's not a single condition, but a host of conditions caused by a variety of insults. This is why Dr. Bredesen believes that traditional medicine, which is focused on removing the amyloid plaque, has very little benefit until the underlying issues have been addressed.
And rather than proposing a single treatment, Dr. Bredesen has created a multi-pronged program that has been successful in reversing Alzheimer's. Dr. Bredesen earned his MD from Duke University Medical Center and served as Chief Resident in Neurology at the University of California San Francisco, before joining Nobel laureates Stanley Prusiner's laboratory at UCSF as an NIH Postdoctoral Fellow.
He held faculty positions at UCSF, UCLA, and the University of California San Diego. Dr. Bredesen also directed the Program on Aging at the Burnham Institute before joining the Buck Institute in 1998 as founding President and CEO.
Dr. Bredesen is also a prodigious innovator in medicine with over 30 patents to his name. He put much of his findings and research into his internationally bestselling books, The End of Alzheimer's and The End of Alzheimer's Program, where he shares hands-on information with regards to what each of us can do today to keep our brains functioning optimally, as well as what can be done for patients with existing Alzheimer's and dementia.
In this conversation with Dr. Bredesen, you'll hear:
3:15 "The End of Alzheimer's" book and follow up. What is Alzheimer's
8:00 MOCA Score. Alzheimer's is a subtle reaper
9:45 If something is not right with your cognition, find the reason
11:15 Different subtypes of Alzheimer's
16:30 The role of beta amyloid
19:00 Alzheimer's is a protective measure. It's also bigger than COVID
21:15 Eli Lilly's recent announcement posted their stocks, just because they could "slow the decline"
22:00 Insulin resistance
22:45 Ketosis on a mainly plant based diet
27:00 The importance of fasting
28:00 Continuous Glucose Management – C.G.M.
29:30 Targeted supplements and why they're important
37:35 Dirty cosmetics
38:45 Check your toxins on-line
43:00 Plasma exchange, youth serum and plasmapheresis
45:00 Apollo Health Co
48:00 "The complexity of the solution has to mirror the complexity of the problem"
50:20 Life practices
53:30 "You are not expected to complete your life's work within your lifetime, neither are you excused from it"
Resources mentioned in this episode:
The End of Alzheimers by Dale Bredesen