The Next Generation of Healthcare: Dr. Marvin Singh On Precision Medicine and How It Keeps You On Top of Your Health Instead Of Underneath Disease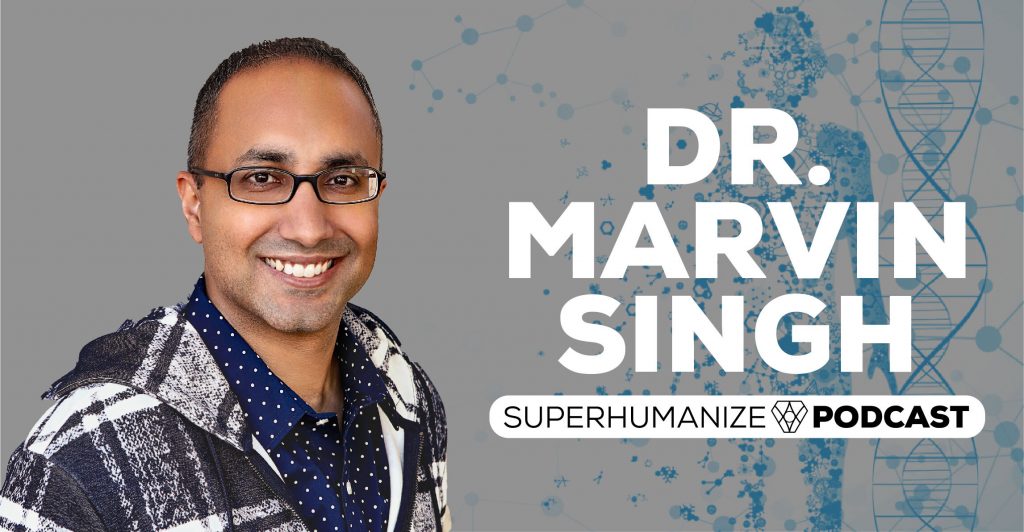 As those of you who've been following the super humanize podcast for a while know, I am super passionate about discussing groundbreaking trends and health and wellness. And that's why I'm very excited to speak to today's guest, Dr. Marvin Singh or Dr. Marv, as he's known affectionately by his patients is an integrative gastroenterologist.
He's the first physician in California to be board certified in internal medicine and gastroenterology. In addition to being a diplomat of the American board of integrative medicine, he's currently one of two integrative gastroenterologists in the United States to carry all three of these endorsements.
Dr. Marv is the director of integrative gastroenterology at the Susan Samueli Integrative Health Institute at UC Irvine, as well as a voluntary system clinical professor at UC San Diego in the department of family medicine and public health.
Dr. Marv is dedicated to guide his patients to optimal wellness by using the most cutting-edge technologies to design highly personalized precision based protocols.
To help them stay on top of their health, rather than underneath disease.
Due to this calling, he Founded Precision clinic to bring the best and preventive medicine to his clients.
In my conversation with Dr. Marvin Singh, you'll hear:
03:04 Dr. Marv's approach to wellbeing
04:41 What is Precisionomics:
The cutting edge tools and tests Dr. Marv uses and why it does not mean you have to spend a fortune to make a huge difference in your health
09:30 Dr. Marv's own health and wellness journey
15:48 Fellowship of Internal Medicine – Never stop learning
16:30 The gut microbiome: what it is and why it is not only about bacteria
22:49 Getting overly focused on candida
25:37 Probiotics their benefits and their potential correlation with SIBO
Why they are not straight forward: how they can help in many cases but also may exacerbate certain conditions
30:08 Antibiotics and Dr. Marv's take on them:
When to use them and when not to
They can be like an atomic bomb to your intestinal tract
Antibiotic overuse in animal feed and how it negatively affects people who eat meat
Why being plant based does not necessarily mean you eat antibiotic free
35:17 Own Your Health: Dr. Marv's book
39:50 Stress and how to regulate it with adaptogens:
Dr. Marv's favorite adaptogenic herbs to calm the mind
43:50 The positive impact of Earthing on gut health
49:16 The power of the mind
Taking care of our environment means taking care of ourselves
51:51 What parents can do to lay a good foundation for their children's lifelong health: diet, communication and admitting fault
58:00 How psychological stress can negatively affect the microbiome:
Non pathogenic bacteria becoming pathogenic as a result of chronic stress
01:00:00 How repeated Behavior becomes Belief becomes Biology
01:01:25 Dr. Marv's practices
Resources
Websites:www.PrecisioneClinic.com
Social Media:
IG / FB / Twitter @DrMarvinSingh