Everything You Could Ever Know About Adaptogens (and would never think to ask) with Four Sigmatic Founder Tero Isokauppila & Danielle Ryan Broida.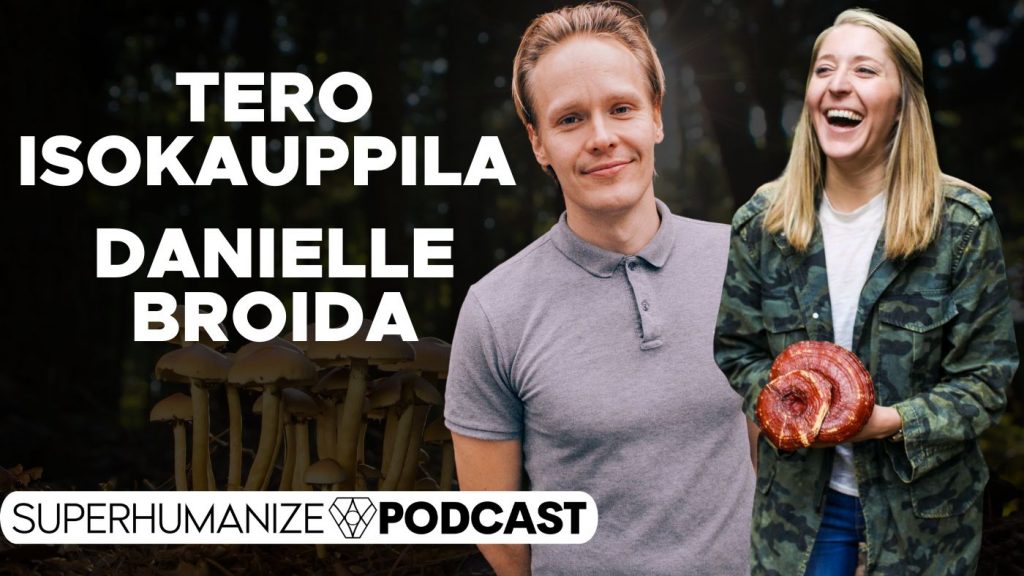 Those of you who have been listening to this show for a while, know we are all about unlocking our full potential. And part of superhumanizing is reconnecting with the profound wisdom of ancient healing practices. Today we are going to dive deep into adaptogens, the plants and mushrooms that have been used around the world for thousands of years that can help us regulate our system and adapt and respond to stressors, be they mental or physical. I believe the present time, where so many of us are dealing with stress or chronic or infectious diseases, is the perfect time to learn about and integrate adaptogens into our daily practice. And I have two leading experts on adaptogens joining us today.
Tero Isokauppila is a bestselling author and the founder of Four Sigmatic, the eight figure functional foods company that has become synonymous with making health delicious and easy. His roots are in Finland, where he grew up on his family's 13th generation farm and he has a degree in Chemistry, Business and a Certificate in Plant-Based Nutrition at Cornell University. Tero is also the author of Healing Mushrooms and Santa Sold Shrooms, a children's book for adults about the magical origins of Santa Claus.
Danielle Ryan Broida is a Registered Herbalist of the American Herbalists Guild, Certified Holistic Nutritionist and Head of Education and Innovation at Four Sigmatic. Prior to joining forces with Four Sigmatic, she received her BA in Environmental Studies and Philosophy from Whitman College. Danielle studied Ayurveda in India and became a Certified Yoga Instructor on the banks of the Ganges River. She then worked with a Naturopathic Doctor in Indonesia where she became a Certified Raw Chef and Detox Coach. After several years in Asia, she landed in Boulder, Colorado to formalize her education in holistic medicine, completing her graduate studies at the Colorado School of Clinical Herbalism where she presently is the Instructor of Mycology.
Danielle has a private practice, Danielle Ryan Wellness, where she works with hundreds of clients across the US, specializing in functional mushroom based treatment for individuals with autoimmune conditions and chronic illnesses.Tero and Danielle co-authored the book Healing Adaptogens: The Definitive Guide to Using Super Herbs and Mushrooms for Your Body's Restoration, Defense, and Performance.
In this interview, Danielle and Tero share what an adaptogen is, some of the world's most healing adaptogens and how to use them and how adaptogens found their way from traditional systems of medicine into modern times.
If you want to boost your body's ability to perform, defend and restore, this episode is for you!
In this episode with Tero and Danielle, you'll discover:
-A primer on "what is an adaptogen?"…04:30
-Encouraging news on the current state of research on adaptogens…08:45
-How indigenous cultures have understood and used mushrooms and adaptogens…13:15
-Tero's journey to becoming subject matter expert and entrepreneur in mushrooms and adaptogens…21:00
-Danielle shares her own journey to the realm of adaptogens…27:55
-Advice for people at the beginning of the adaptogen journey re: body types and overall health…32:08
-The categories (and examples) of adaptogens…36:44
-How to know if the supplements that say they contain adaptogens, actually contain adaptogens…45:30
-Ariane, Tero and Danielle share their daily adaptogen routines…53:10
-Are mushrooms an alien life form?…59:09
-Tero's and Danielle's best personal practices (that don't have to do with adaptogens)…1:04:00
Resources mentioned:
BOOKS
Healing Adaptogens: The Definitive Guide to Using Super Herbs and Mushrooms for Your Body's Restoration, Defense, and Performance
WEBSITES
Guest's social handles: